Healthy teeth-healthy employees
Offering dental insurance to your employees helps you:
Attract and retain talented people
Commit to the health and well-being of your employees and their families
Reduce sick leaves caused by dental health issues
Help your employees access preventative dental care to address oral health issues before they become serious
Improve your employees' ability to afford timely dental treatments
What is included in the cover of 3 insurance plans?
Increasing benefits during 3 years while premium stay the same!
BRONZE plan*

Year 1

Year 2

Year 3

REGULAR TREATMENT IN POLAND AND EU

2543 PLN

3128 PLN

5558 PLN

Group1: Diagnostic and prevention
0 PLN
0 PLN
0 PLN
Periodic oral examination
Scaling and polish treatment
Periodontal screen and charting
Oral cancer screening
Specialist consultation
Single tooth internal bleaching
Teeth whitening
Group 2: X-rays
180 PLN
180 PLN
180 PLN
Intraoral X-ray
Digital panoramic X-ray
Occlussal X-ray
3D X-ray
Group 3: Basic treatments
1238 PLN
1598 PLN
2003 PLN
Local anaesthesia
Fillings
Root canal treatment
Tooth extraction
Group 4: Major treatments
1125 PLN
1350 PLN
3375 PLN
Periodontal cleaning (deep scaling closed)
Periodontal surgery
Periodontal root planing (open)
Partial denture
Tooth hemi-section
Periodontal splinting
Bridge (replacing missing tooth)
Crown
Full denture
Implant (including components)
Adult orthodontics

ACCIDENT TREATMENT WORLDWIDE

4275 PLN

5625 PLN

9000 PLN

ORAL CANCER TREATMENT IN POLAND

22 500 PLN

45 000 PLN

67 500 PLN
*For more detailed information about the benefits download short product information here
NB! Periodic oral annual examination is payable by the insured person and it must be carried out no more than 12 months before the first insurance claim is submitted.
SILVER PLAN*

Year 1

Year 2

Year 3

REGULAR TREATMENT IN POLAND AND EU

3443 PLN PLN

4253 PLN

6458 PLN

Group1: Diagnostic and prevention
900 PLN
900 PLN
900 PLN
Periodic oral examination
Scaling and polish treatment
Periodontal screen and charting
Oral cancer screening
Specialist consultation
Single tooth internal bleaching
Teeth whitening
Group 2: X-rays
180 PLN
180 PLN
180 PLN
Intraoral X-ray
Digital panoramic X-ray
Occlussal X-ray
3D X-ray
Group 3: Basic treatments
1238 PLN
1598 PLN
2003 PLN
Local anaesthesia
Fillings
Root canal treatment
Tooth extraction
Group 4: Major treatments
1125 PLN
1350 PLN
3375 PLN
Periodontal cleaning (deep scaling closed)
Periodontal surgery
Periodontal root planing (open)
Partial denture
Tooth hemi-section
Periodontal splinting
Bridge (replacing missing tooth)
Crown
Full denture
Implant (including components)
Adult orthodontics

ACCIDENT TREATMENT WORLDWIDE

4275 PLN

5625 PLN

9000 PLN

ORAL CANCER TREATMENT IN POLAND

22 500 PLN

45 000 PLN

67 500 PLN
*For more detailed information about the benefits download short product information here
GOLD plan*

Year 1

Year 2

Year 3

REGULAR TREATMENT IN POLAND AND EU

4275 PLN PLN PLN

5624 PLN

900 PLN

Group1: Diagnostic and prevention
1260 PLN
1260 PLN
1260 PLN
Periodic oral examination
Scaling and polish treatment
Periodontal screen and charting
Oral cancer screening
Specialist consultation
Single tooth internal bleaching
Teeth whitening
Group 2: X-rays
180 PLN
180 PLN
180 PLN
Intraoral X-ray
Digital panoramic X-ray
Occlussal X-ray
3D X-ray
Group 3: Basic treatments
1238 PLN
1598 PLN
2003 PLN
Local anaesthesia
Fillings
Root canal treatment
Tooth extraction
Group 4: Major treatments
1125 PLN
1350 PLN
3375 PLN
Periodontal cleaning (deep scaling closed)
Periodontal surgery
Periodontal root planing (open)
Partial denture
Tooth hemi-section
Periodontal splinting
Bridge (replacing missing tooth)
Crown
Full denture
Implant (including components)
Adult orthodontics

ACCIDENT TREATMENT WORLDWIDE

4275 PLN

5625 PLN

9000 PLN

ORAL CANCER TREATMENT IN POLAND

22 500 PLN

45 000 PLN

67 500 PLN
*For more detailed information about the benefits download short product information here
Members can download the Cavitas app to have all information in their pocket:
Easy claim reporting and monitoring
Shop for effective dental care products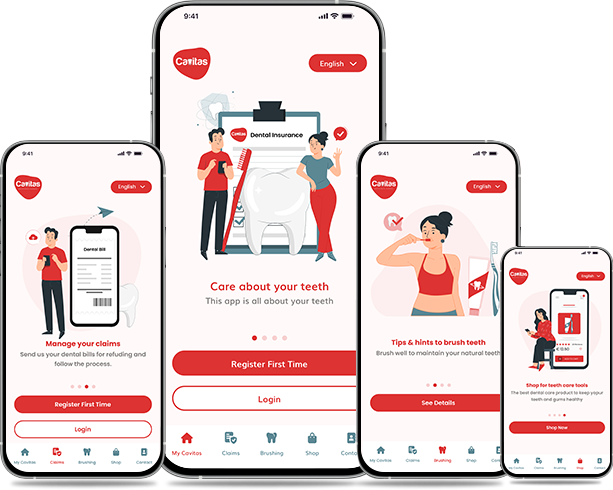 Let's cover your employees